Capitol Rioter Who Smashed Window with a Tomahawk Axe Sentenced to Seven Years in Federal Prison
Introduction
A Donald Trump supporter, known as "Skullet" due to his distinctive shaved head and mullet, has been sentenced to seven years in federal prison for his involvement in the brutal Capitol riot. Shane Jenkins, the defendant, was found guilty of multiple criminal counts, including felony civil disorder, obstruction of an official proceeding, assaulting an officer with a dangerous weapon, and destruction of government property.
Longest Sentence Yet
The federal government sought a sentence of over 19 years, which would have been one of the longest given in any January 6 case. However, the longest sentence thus far was handed down to Enrique Tarrio, the former leader of the Proud Boys, who received 22 years in federal prison last month after being convicted of seditious conspiracy in May.
A Sad Episode in American History
Jenkins' attorney described the events of January 6 as "one of the saddest episodes in American history." They also highlighted the dangerous presence of individuals like Donald Trump, who continue to propagate the false claim that Trump won the election.
Egregious Conduct
The government characterized Jenkins' conduct as "egregious" and argued that he had planned for violent insurrection well in advance of arriving in Washington, D.C. Assistant U.S. Attorney David Perri emphasized Jenkins' lack of remorse and his acceptance of political violence as acceptable.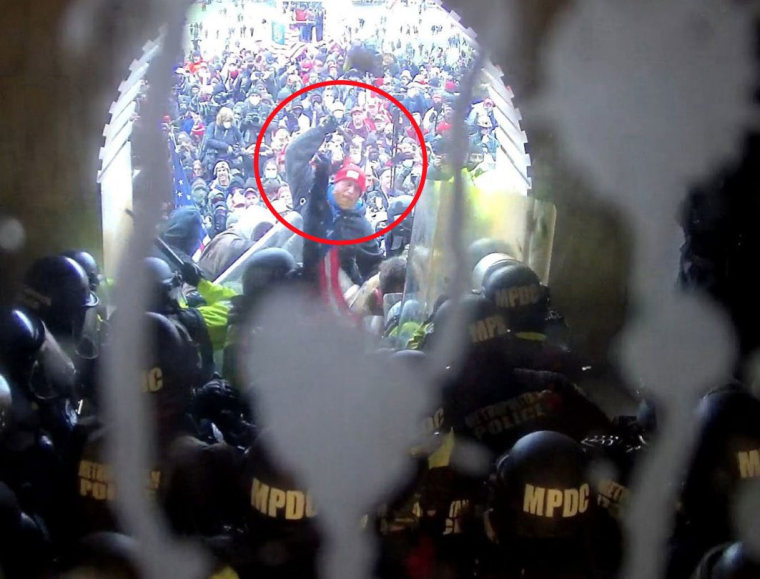 A Concerning Reaction
During the sentencing hearing, Perri raised a thought-provoking question: "What happens if his preferred candidate gets convicted of something?" He referred to the pending criminal cases against former President Donald Trump and urged the judge not to risk the democratic future of the country.
Susceptibility to Lies and Propaganda
Attorney Dennis Boyle argued that individuals like Jenkins were particularly susceptible to Trump's lies and propaganda. He highlighted how Trump promoted the false notion that Vice President Mike Pence could overturn the election results, leading to the misguided beliefs of people like Jenkins.
A Troubled Background
Before his sentencing, Jenkins shared details about his troubled childhood, disclosing that his life fell apart when he discovered he was adopted. He mentioned turning to drugs and alcohol after a fatal gunfight with his stepfather, which he claimed was an act of self-defense.
Involvement in Another Attack
The Justice Department also revealed that Jenkins took part in an attack on another January 6 defendant, Taylor Taranto, who was arrested outside of former President Barack Obama's home. Jenkins participated in assaulting Taranto due to derogatory remarks made about Ashli Babitt and her mother.
In the 33 months since the Capitol attack, over 1,100 participants have been arrested, with approximately 660 already sentenced, including nearly 400 receiving prison sentences.
Read More of this Story at www.nbcnews.com – 2023-10-07 20:43:49
Read More US Politics